Wednesday Reviews : New Running Gadgets and Gear
Hi everyone! Today I'm really excited to review a few new gadgets that I've been using latel. I've been wanting to do this post for a long time, but wanted to make sure I used both of these products plenty of times to get a thorough review, and to know what I really think of them. This is a lonnnnggg post, so let's get into it.
Beets Blu Heart Rate Monitor
Where to buy:
I received this product for free from Beets Blu in exchange for an honest review. I'm not being paid for this review or compensated in any other way!
For a while now, I've been wanting to try out heart rate monitors for my training. Last year,
Nichole
and
Jennifer
wrote some great, informative blog posts about the subject, and I really wanted to get my hands on one! I was really excited when Beets Blu contacted me to try out their heart rate monitor, and of course I accepted.
The first thing that I noticed about the product is that it's very minimal. It weighs in at only 16 grams and is 11 mm tall. When I'm wearing it, I really don't notice it or feel it at all! The monitor comes with simple instructions- adjust the band to fit your chest, wet the nodes that touch your skin and register your heart beat, and snap it on.
Next, you'll connect the monitor to your phone's bluetooth, and use it with a compatible application. I use Run Keeper, but there are lots of others out there that Beets Blu recommends (some are below, and the full list can be found on their
website
)
I wore this out on a variety of runs, including an easy run, speed workout, and long run. In the Runkeeper app, I adjusted my alerts to hear my heart rate zone every 5 minutes which was really helpful. On my easy runs, I tried to keep my heart rate around 70%, speed workout around 90%, and long runs between 60 and 70%. I'm still learning about what ranges are best for each workout, but for now these seem to work well!
Easy Run:
Speed Workout:
Long Run:
Overall, I really like the Beets Blu monitor. If you're looking for an inexpensive heart rate monitor that can sync up with your phone and not have a ton of bells and whistles, I think this is a great option! I wish that I could connect it with my watch, but Garmin will only connect to their own devices. I like using the Run Keeper app, so this isn't really an issue!
Garmin Vivo Active
Where to buy:
I bought this watch with my own money back in November. I actually found it on sale on REI's website and used a rebate from Ibotta to get it for around $100! Since I've been using it for so long, I have a pretty good understanding of it and I hope my review will be helpful!
This is actually the third running watch that I've used, and it's by far my favorite. I first used the Nike+ watch before GPS watches became really popular, then shared a Garmin Forerunner 10 with Dan for about a year. I decided to pick up my own watch and my number one requirement was for it to be waterproof and having multi sport capabilities. That led me to this watch, since it is safe for swimming and biking, and is at a lower price point than most multi sport watches.
For running, this watch is great. It syncs up really quickly, either using GPS or the accelerometer in the watch (which will switch to GPS as soon as it connects). I also set mine to auto pause if I'm slower than 20:00 miles (aka stopped at a stoplight). There are a few different data screens that you can use, and each screen is completely customizable for whatever data you want to see. Right now, I use the screens that show overall time, distance, and pace as well as current lap time, distance and pace (mine is set to automatically lap every mile, but this can be changed as well). To switch between these screens you just touch the screen!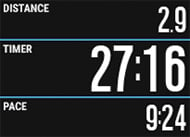 all images in this section are from the Garmin website
There are other data fields that you can use on the watch, including heart rate (if you connect a Garmin heart rate monitor), elevation, weather, cadence, and more. There's also an option called "Back to Start" which shows you how far and what direction your starting location is. I love having this feature!
This watch also works indoors on the treadmill or indoor track. It uses the accelerometer to calculate distance and pace. While I found it to be accurate when I ran on an indoor track, it didn't work for me on a treadmill. This isn't a big deal to me since the treadmill shows me distance and time already, plus I don't use the treadmill that often.
I also used this watch in the pool. There are options to change the size of the pool, and splits are calculated based on how many lengths you do. My pool is 25 yards, and I found it to be completely accurate in calculating distance. There are a few data screens available for swimming, including time, distance, pace, strokes, and lengths. You can also pause the watch during a workout to take a break or start a new interval.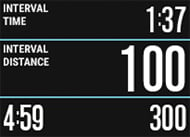 Besides running and swimming, the watch also has capabilities to track biking, indoor spinning, walking, and golfing. I haven't used any of these features yet, but I'm excited to try out the biking when it warms up!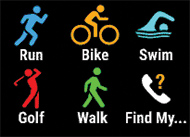 This watch has so many other cool features that I could talk about (as far as connecting to smart phones and other non-fitness features), but I mostly use this for workouts. If you're interested in learning more about the other features, check out
DC Rainmaker's in-depth review
. In fact, if you're looking to purchase any fitness-related device check out his site first. His reviews are incredible!
Overall, I love this watch. It has so many cool features and I love how you can customize all of the data fields to see exactly what is important to you. It syncs up really quickly to GPS and I've never lost a signal, which is always important to runners! The battery life on it is also really great, and I love how fast it charges up. There are so many great parts of this watch that I'm honestly shocked that it's priced so low. It's almost like having a regular Garmin, FitBit, Apple Watch and triathlon watch in one! Pretty incredible.
What new products have you tried out recently?
What kind of watch do you use? Anyone out there not use any watch?
What kind of review would you be interested in seeing next?
Post contains affiliate links. Thank you for your support!
linking up with Amanda