Top Five Friday : Summa Summatime
Hi everyone! It's Friday, which means it's time to share favorites. I feel like it's been such a long time since I've done one of these posts, so I'm excited to share what I've been loving this week. Enjoy!
Song : Moonlight by Grace VanderWaal
If anyone else watched America's Got Talent and fell in love with the winner, you have to listen to this song! Grace just came out with a new song, which has her unique signature sound and ukulele of course! This is a fun song for summer that reminds me a bit of Florence and the Machine. Give it a listen!
Podcast : Happier in Hollywood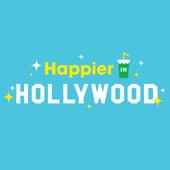 One of my OG Podcast favorites is the Happier with Gretchen Rubin podcast. She hosts the show with her sister, Elizabeth Craft, who is a writer in Hollywood and worked on shows like Angel and The Shield. Elizabeth recently launched her own spinoff podcast with her writing partner, and it's been a lot of fun to learn about a completely foreign industry, as well as learn some work hacks for my own job. Plus, who doesn't want to get a behind-the-scenes look at what Hollywood is REALLY like?
Product : Salad Spinner
I've been getting a LOT of lettuce, spinach, collards and herbs in my weekly CSA box, so I decided to finally get a salad spinner. I didn't think it would make much of a difference, but now I find myself eating up all the leafy veggies all the time. It's so much easier to wash the produce and spin to dry rather than trying to towel dry, and then I can just leave the lettuce in the spinner until I'm ready to use it! I found
this
one for super cheap at Home Goods, and it works really well.
Show : World of Dance
This is definitely my favorite show of the summer! I love the format- after getting through auditions, solo dancers and team acts go head to head to move on to the final rounds. There are so many talented people on this show (including FikShun from SYTYCD and the Jabbawockeez!), and I've been loving following along. My favorite acts would have to be Eva Igo and Keone and Mari.
I also have to mention that Big Brother is officially back for the summer! I'm still getting caught up, but there are a lot of people I'm excited about (most of all PAUL IS BACK!) and I'm interested to see how Christmas does in the competition since she's a CrossFit athlete.
Random : Summer Albums

Have to add some more new music in here, because so much good stuff is coming out! Calvin Harris just came out with Funk Wav Bounces Vol. 1, which is full of amazing collabs from some of my favorite singers (just a sampling includes Future, ScHoolboy Q, Migos, and Kehlani). DJ Khaled also recently released Grateful, which features a lot of the same artists, but a completely different sound. My favorite song off that album (and probably my song of the summer) is Wild Thoughts. So good!


What's your song of summer?
Who else loves Big Brother?