Top Five Friday #57
Hi everyone and happy Friday! I'm running a little slowly today...that Pens game! I'm a little excited for the season to be over so I can get my normal sleep cycle back, but who doesn't love playoffs?


SOMM : Into the Bottle
I'm a huge fan of documentaries, and I loved watching SOMM last year on Netflix. It follows a few guys who were studying for the Master Sommelier exam, and also taught a lot about how wine is made and sold. I loved learning something new, but the story line was also really interesting and kept me completely captivated.
Recently, a follow-up to that documentary was released, that tells a story about ten different wines. It features a lot of the same people, and it's really interesting. If you're into wine or just like a good story, I would give it a watch!
French Open Final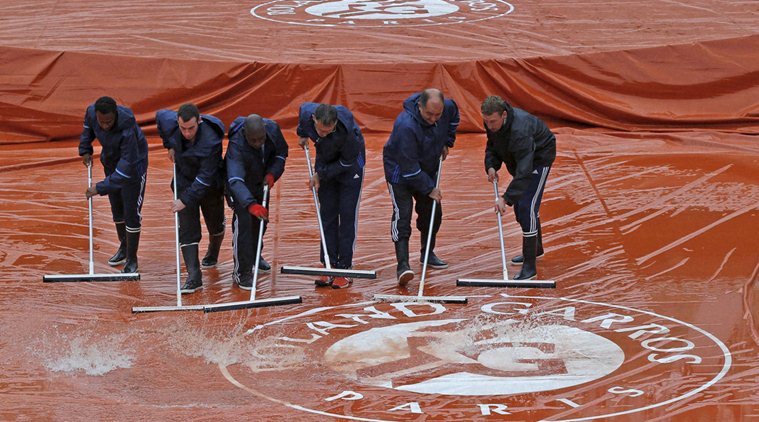 This might be old news by now, but last weekend was the final of the French Open! Both the men and women's finals (and entire super rainy tournament) were really exciting to watch. On the women's side, Garbine Muguruza from Spain won her first Grand Slam tournament, while Novak Djokovic from Serbia completed his career slam. It was so much fun seeing both of them hit huge milestones in their careers! Next up- Wimbledon!
La Croix Curate
Now that I'm doing another Whole30, I had to change up my beverage game. While I've been drinking a ton more water than usual, and having lots of black coffee (more on that below), I also crave something fizzy once in a while. In the past, I haven't been a huge fan of La Croix, but I tried some of their new flavors and I'm obsessed! Right now I'm loving the Kiwi Sandia (Watermelon) and Mure Pepino (Blackberry Cucumber). SO GOOD!
Nespresso
This might seem counter-intuitive, but I decided to buy myself a Nespresso coffee maker to reward myself for making it through my 6-month no-buy! I've been wanting to buy one for a while, so when I got to demo one at a Sur La Table and learned they were on sale, I decided to bite the bullet. I'm SO glad that I did because it makes incredible coffee! I only drink my coffee black, so having a high-quality cup (that hardly takes any effort or time in the morning) is huge!
If you're also interested in buying one, right now is a great time because all retailers seem to be having the same 20% off sale until June 20, along with a $20 credit to buy coffee! I got the
Evoluo Deluxe Bundle
(that includes a milk frother) and I would highly recommend it. (p.s. I'm not at all sponsored by Nespresso! I wish I was..but I bought this machine myself and just want to share the deals in case anyone else out there has it on their wish list!)
Changes in Posting Schedule
I just wanted to give you all a heads up that I'm going to only be posting three days a week from now on. I've been trying to keep up with posting five days every week (and mostly failing lately) so I decided to commit to only posting three days. I'm hoping that this will give me time to train properly, focus on work, and even have a bit of a social life! I also hope this will make me write higher-quality content instead of just trying to hurry and finish a post.
I hope you all have a great weekend!
post contains affiliate links. thank you for your support!