Top Five Friday : Reunited
TGIF everyone! Today is a very happy Friday for me, because Dan is coming home from a work trip! He left right after we came home from Mexico, so it's been a very long three weeks without him. We have a lot of fun plans after he comes back, but are also spending a lot of time relaxing too (he had to work 15 hour days every day for the entire 3 weeks..eek!). Besides that- I have a lot of fun and different things to share with you all for my Top Five Friday post! I hope you enjoy and manage to relax this weekend!
Song
Anything by Wisin
It might have to do with the hot, hot, HOT weather we've been having lately, but I can't stop listening to Latin/Spanish/Carribbean music lately. One of my favorite genres is Reggaeton, which is kind of like Latin hip hop. Wisin is one of my favorite artists, and I have been listening to his albums (El Sobreviviente and El Regreso Del Sobreviviente). They always make me want to dance and put me in the best mood!
Podcast
Homecoming
This was definitely one of my favorite podcasts last year, and I'm so excited that the new "season" is out! There's only been one episode so far, but I'm already completely hooked. It's picking up where the last season left off, with new characters being introduced. This year, the creators are also coming out with a companion novel, and a
series
is in the works with Amazon (with none other than Julia Roberts set to star). Check it out!
Product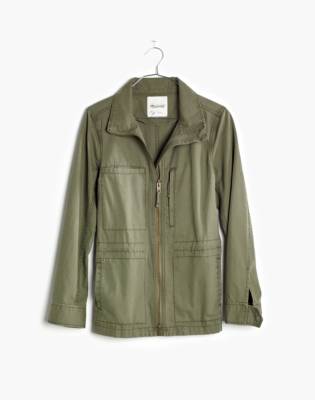 I have been looking for the perfect utility jacket for what seems like years- I had one that was
ok
, but not perfect, that I bought for really cheap from HM back in college, but I had to get rid of it last year. Ever since, I've been looking for a replacement. I wanted to get a jacket that I loved instead of just one that was good enough, which I knew meant that I would have to spend a bit more money. I originally found one from Gap that looked great online, but ended up being awful in person. Then, when I was running errands at the mall, I happened into Madewell to look around, and found
THE jacket
. I knew as soon as I saw it that it was the one, and it looked even better on!
The material is really high quality, and the color is the perfect shade of green. I love the fact that it has a zipper, along with plenty of pockets (that don't make the jacket too puffy). The sleeves are the perfect length, and the size is just right for me. It was expensive, but I know that I'll get so much use out of the jacket and be able to wear it for years to come! Sometimes, waiting for the right piece is worth it!
Shows
Big Brother
- It's been so hard for me to keep up with the show this year! Since they air a few times a week, I feel like I'm always trying to keep up. So far there aren't too many stand outs for me, and the big disappointment of the season (for me) is not getting to see Christmas actually compete in any physical challenges this summer! I hope she comes back in a future season so we can see her school all of the "super tough" guys.
America's Got Talent
- To be honest, I'm not that overwhelmed by any of the acts this year. I'm kind of getting tired of the abundance of sob stories and singers (which makes me sound like an awful person...it just seems like this year EVERY contestant has an awful story). Maybe I'll change my mind after the live shows start, but so far I'm not impressed.
SYTYCD
- I'm loving the format for this year, but I can't believe we'll only get to see 10 dancers in the live shows! It seems like there are a lot of super talented dancers this season, so I'm really sad we will have to see a lot of them go home. I have a few favorites so far- Kaylee, Dassy, and the Russian duo (ahhh their dances give me all the feels!). Can't wait to see the teams get formed and the final 10 get chosen!
World of Dance
- Can I just come back as Eva Igo in my next life? She is SO incredible, and just takes my breath away every time she dances. I think she should win the entire competition (and if she doesn't, I'm rooting for Keone and Mari!)
Friends from College
- Pretty much the only non-reality show I'm watching currently! I just started watching this Netflix series, and I'm obsessed with it. So funny and clever and unique. If you haven't watched it yet, get on it!
Random
Simple Habit app
To be completely honest, I've never been much of a meditator. I'm much more of a skeptic, and even though I love doing yoga, I always skip out on the quiet meditation at the end of a flow. In college, I took a tai-chi class (which I loved), but during our 10 minute meditation at the beginning of the class, I could never get my mind to relax (might also be because it was an 8AM class which meant I was just trying to stay awake). I've been having issues sleeping lately, so I decided to just give it another try by downloading a free app, and going through a nighttime guided meditation. Now, I'm a complete convert! I'm not sure if it's because the meditations are guided, so I just listen along and don't find my mind wandering, or the fact that these are more "active" (lots of tensing the body and relaxing to get your body to get ready to sleep), but I'm loving it. There are so many options you can use to customize the meditations- from length to activity to mood- that I know I will always find the perfect one for me.
What do you like to listen to in the summer?
Favorite shows?
Do you meditate?