Top Five Friday : Still Hot
Happy Friday everyone! It might be the end of September (ALREADY), but we're getting a last minute heat wave in Pittsburgh. I'm hoping that that I can soak up the sun this weekend and enjoy the warmth before we start to get slammed with snow. Even if I complain about running in the heat, I know I'll be missing it in a few months. I do feel super thankful to live in a place that doesn't typically get hit with any kind of extreme weather, and my heart and prayers are constantly going out to all of you who have been affected by storms, fires, hurricanes, earthquakes, or any other awful events lately. Stay safe!
I hope you all have a great (and safe!) weekend, and here are a few of my favorites from the week-
Song
Sam Smith - Too Good at Goodbyes
I am a HUGE Sam Smith fan, and I have been eagerly anticipating new music from him. I love voices that are full of emotion and give me goosebumps (similar to John Legend and Christina Aguilera). I love this song and hope that more is coming!
Podcast
Where Should We Begin?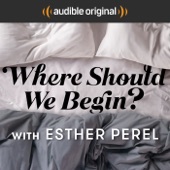 Technically, this
podcast
still isn't out, but it's coming soon! I've had this in my subscription folder ever since I listened to an episode of This American Life where Ester Perel was featured, and she was also on a recent episode of This American Life. The description of the podcast drew me in- "Step into iconic relationship therapist Ester Perel's office and listen as 10 anonymous couples in search of insight bare the raw, intimate, and profound details of their story. From infidelity to sexlessness to loss, it's a space cor people to be heard and understood. It's also a place for us to listen and feel empowered in our own relationships. So...where should we begin?" You can listen to the sneak peek episode
here
!
Product
Dove Dry Shampoo
I have to admit that I'm a HUGE dry shampoo fan, and have tried just about every brand out there from high end to low end. I finally gave Dove a try, and have no clue why it took my so long. Everyone names this as their favorite brand, and for good reason. There's no white residue, which is necessary since I have darker hair, and it gives a bit of lift while making your hair look freshly washed. Not only does it perform really well, but it's also really affordable and can be found just about
anywhere
!
Also- I just got my hair cut last week! I feel like I don't have to use as much dry shampoo now since my hair doesn't constantly look a mess with greasy roots now, but I still love the little bit of lift this gives my roots.
Show
Just like that- summer TV is over and we're into fall shows! It seems like all of the shows that I watch had finales this week, so I wanted to share a few thoughts (and spoilers ahead, obviously):


Big Brother - Really annoyed, because the one person who actually played the game didn't end up winning..again. But, I'm kind of happy that Cody won America's Choice because he was hilarious to watch and I love the fact that he didn't just follow along with everyone else.


America's Got Talent - I knew that Darci would win so I was really happy for her. Preacher Lawson was actually my favorite act from the moment that he was interviewed before his audition (remember him freaking out about meeting Tyra and licking her face?! Iconic). I hope to see more from him soon!!


Masterchef - All I can saw is BABY DAWWWL!

So You Think You Can Dance - The winner hasn't been announced yet, but I'm really hoping that Lex or Koine win. I think that they are (by far) the two best dancers left in the competition. I have to give the edge to Koine, because she has such a lovely personality and makes every dance look so effortless. Plus, her and Marko just make the cutest pair! Some of the moves that Lex pulls out just blow my mind and don't seem like they should be possible! Who do you want to win?
Random
Sticky Rice Baltimore
Last week, when
Alexa
and I went to Baltimore, we stopped for dinner at a little restaurant in Fells Point, right by the harbor, called
Sticky Rice. The restaurant serves lots of different vegan and vegetarian options, including sushi and noodle bowls. We got a summer roll to split, then I got a teriyaki bowl with fried tofu and udon noodles, while Alexa got a vegan miso bowl. We both loved our meals, and were unfortunately too full to try any of their (MANY) vegan sushi rolls. I would highly recommend if you're looking for a different type of Asian restaurant to try out!
What finales did you watch recently?
How often do you get your hair cut?
I'm about once a year!