Cooking from Blogs : Budget Bytes
Hi everyone and welcome back! Today I'm posting part two of my Cooking from Blogs series, and we'll be diving into one of my favorites- Budget Bytes. There are so many reasons I love this blog- not only are the recipes easy to follow, feature common ingredients, and always taste great- but they also are all budget friendly as the name implies! Anytime I want to watch how much I'm spending, I immediately turn to this blog for inspiration.
Once again, I'm going to share a full day of eats with all of you. I actually had the same breakfast and lunch everyday for the week (both were easy to meal prep for work, but more on that in my reviews), and my dinner was a combination of three recipes. Enjoy!
Breakfast :
Mango Coconut Chia Pudding
Author's Photo :
My Photo :
This was a surprising hit! There are so few ingredients that I didn't think it would have much of a taste, but this is a perfect breakfast for me. I usually can't eat much in the morning, and this was super light and not too sweet. Mango is one of my favorite foods, so I loved that that was the only flavor!
Rating
: 5/5. So, so good. I think this will be a new favorite!
Lunch :
Vegan Creamy Mushroom Ramen

Author's Photo :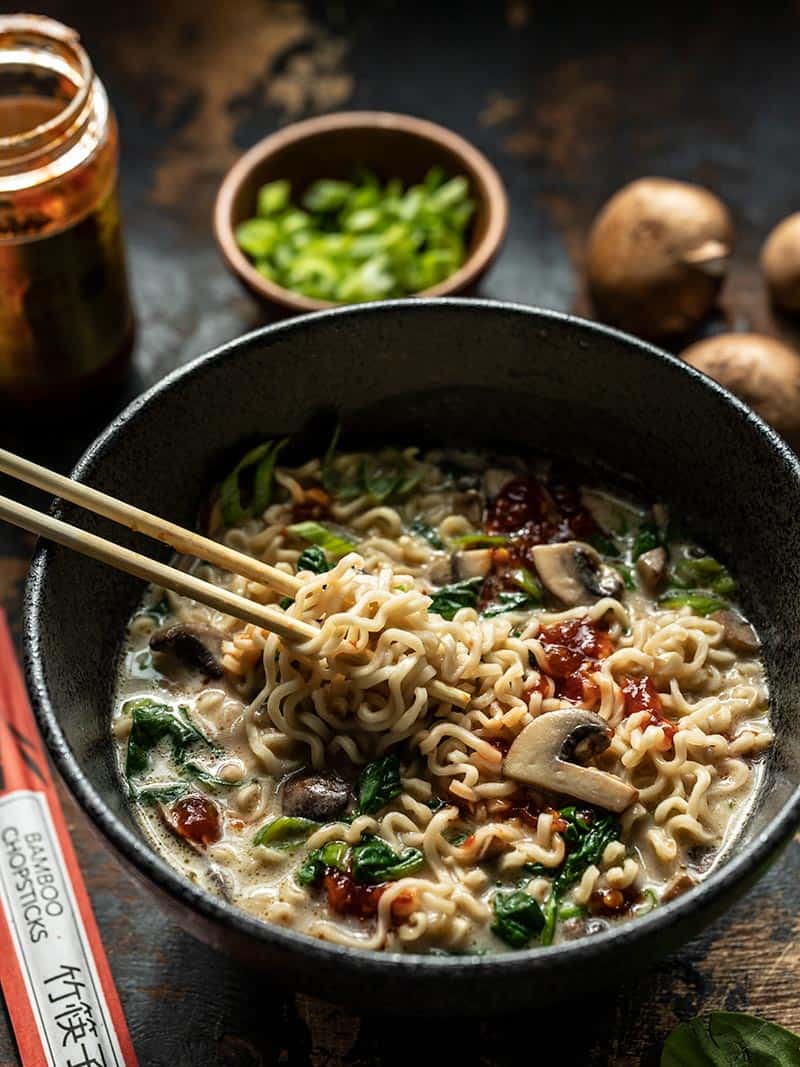 My Photo :
OMG. This is so good!!! It was another super simple recipe, but the flavor was incredible. I love how you can customize this as well- I added some tofu and cilantro and it was the perfect filling lunch.
Rating : 5/5, no complaints! Loved this and will remake in the future.
Author's Photo :
My Photo :
Trying out these recipes was really fun, because I got
Alexa
and her boyfriend Mark to come over to join us for dinner! Even though these recipes didn't really go together super cohesively, I wanted to try out a few different options.
First up- the cauliflower salad (top of the plate). I liked how easy this was to make, and it only needed a few ingredients (most of which I had on hand and had wanted to finish up). The flavor was pretty good, but we all agreed that it needed some kind of sauce to amp it up a bit- it just felt a little dry. I did like the cauliflower and the addition of dried cranberries though!
Rating : 3/5. Good flavors, but needed a sauce or some kind of creamy element.
Next - I made the cucumber/mango salad (blue bowl). This was a really simple recipe to make (only involved two main ingredients with a simple dressing). I absolutely loved it! The taste was fresh and was a perfect side dish. Everyone else seemed to agree!
Rating : 5/5! Really delicious and refreshing side.
Finally - the soup (white bowl)! I've never made a tomato soup from scratch before, and this was really delicious. I did substitute olive oil for the butter to make it vegan, but otherwise followed this to the letter. It was really simple to make, and I loved the "secret ingredient" of blended white beans. I had leftovers and can't wait to heat it up with a grilled cheese on the side. Will definitely keep this in my arsenal for cold winter nights, or when I need to use up some canned tomatoes!
Rating : 4.5/5. Super good and easy to make!
Besides the food that I made, Alexa also made the
seeded no-knead bread
, which went PERFECTLY with the soup, and the
cold peanut noodle salad.
I loved how crunchy and colorful this dish was, but would double the dressing (if you can't tell, I love an overdressed salad!)
Do you like to spend or splurge on home-cooked meals?
What's your favorite side dish?