Cooking from Blogs : Lazy Cat Kitchen
Hi everyone and welcome back! Today I'm posting part three of my Cooking from Blogs series (find the others
here
!) with a blog that was completely new to me-
Lazy Cat Kitchen
. This was sent over to me from Alexa, and as soon as I checked it out I became an instant fan. The recipes were interesting and sounded so fresh! I was so excited to try it out.
Once again, I'm going to share a full day of eats with all of you. I tried a breakfast and lunch for the week (sharing my food prep tips in there reviews below), along with a three part dinner. Keep reading to see how I liked the week of eats!
Breakfast :
Healthy Date Bars
Author's Photo :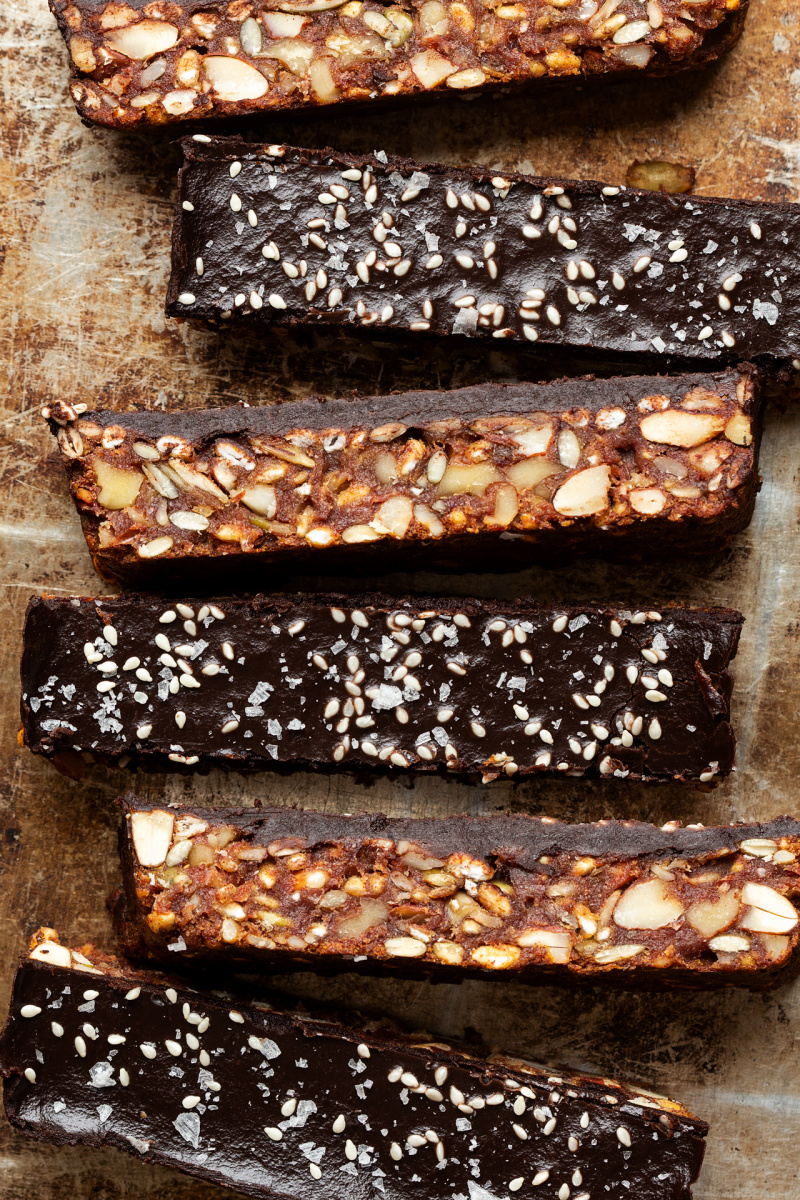 My Photo :
I have mixed feelings about this. It was very easy to make and used up a ton of ingredients I'm trying to get rid of in my February pantry challenge, and worked great as a snack after my morning workout. I also appreciated the fact that there wasn't a ton of sugar in this (just some maple syrup in the chocolate topping), so it was nice for breakfast. But, the taste wasn't that great, and the texture was a bit too nutty. It reminded me of a Lara Bar though, so if you're into those you might like these as well. I might play around with the recipe in the future, but this was a fun new idea to keep on hand.
Rating
: 3.5/5. Not my favorite, but worth keeping around.
Lunch :
Sweet Potato Bowl

Author's Photo :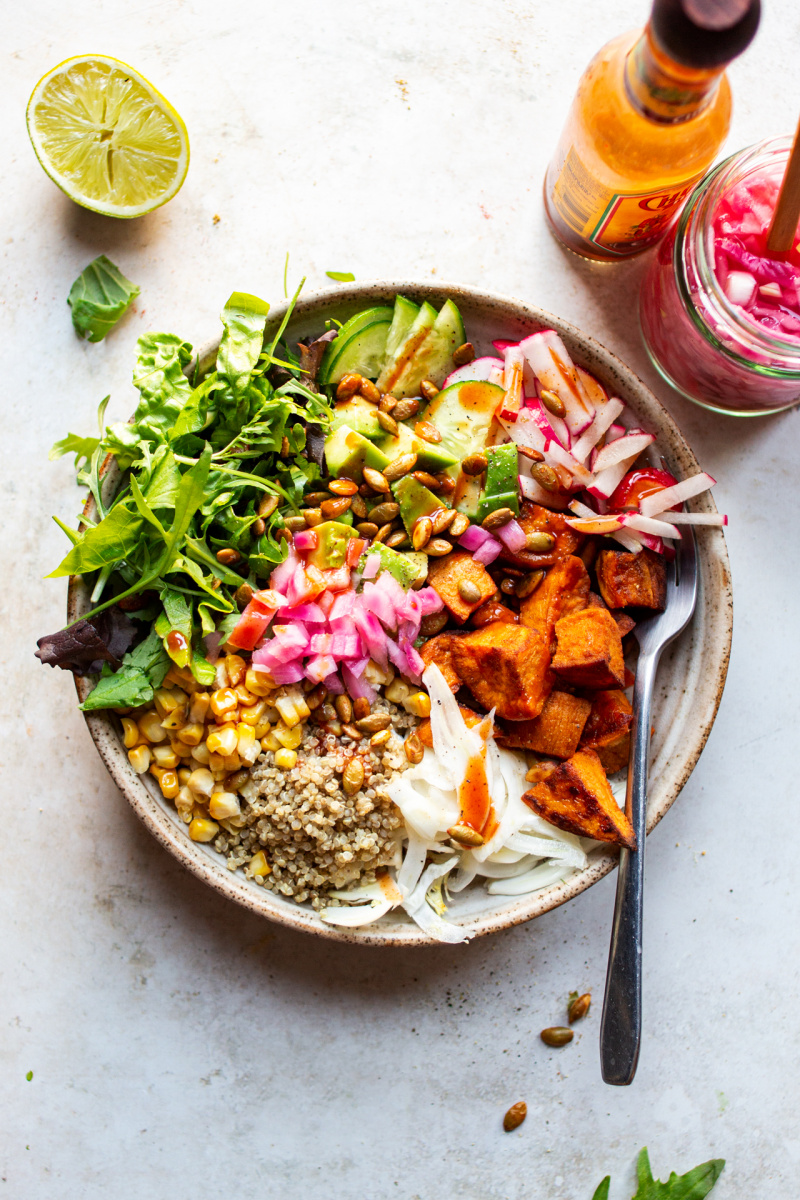 My Photo :
I was able to meal prep this for my lunches, but it did take a bit more work than my typical "throw in containers and forget about it til I'm leaving for work". Since there was some fresh veggies in there (particularly cucumbers, which get gross QUICKLY), only part could be prepped ahead of time. So- I got all of my rice and sweet potatoes ready, along with chopped veggies that won't go bad (radish, corn, onions). I also portioned out the roasted nuts, and then just added in cucumber and peppers the night before. Overall, I really liked how this tasted, and was surprised at how flavorful and interesting this was, since it was pretty simple and didn't have any kind of sauce (besides a squeeze of lime).
Rating : 4.5/5, tasty but a bit more work than I like for meal prep
Author's Photo :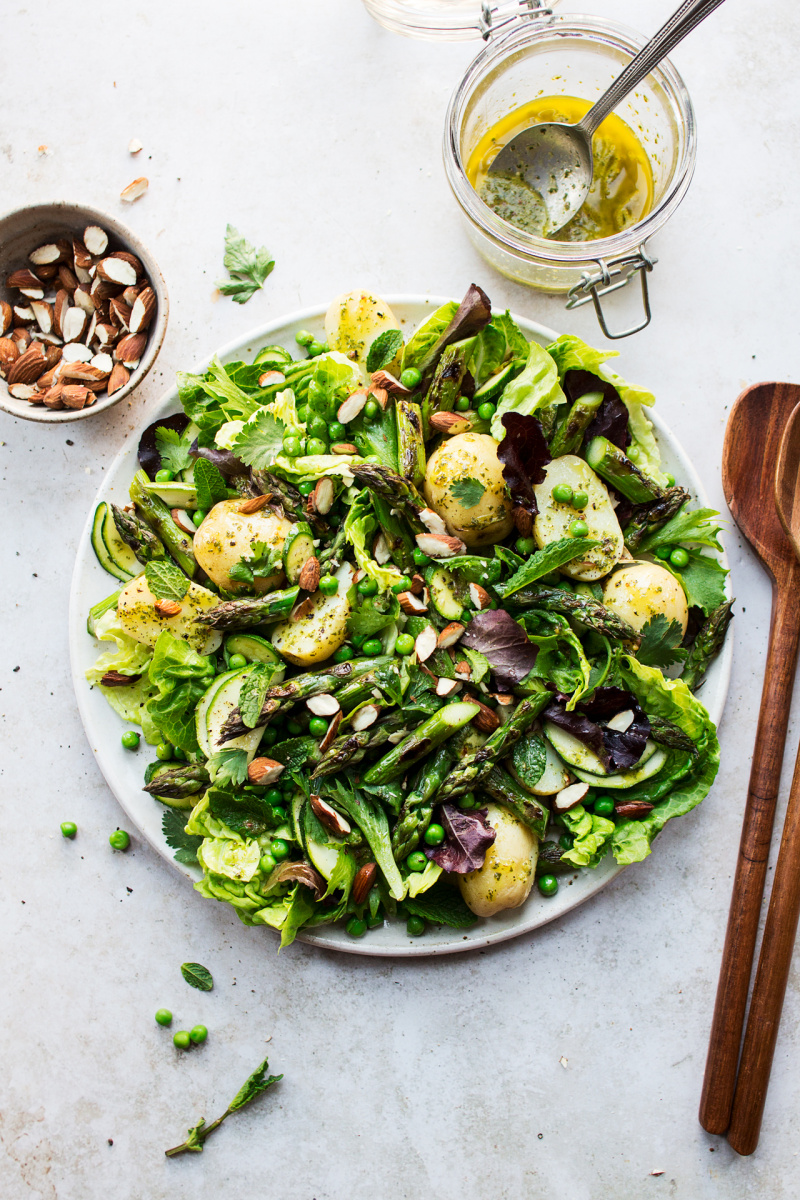 My Photo :
For the dinner, I was originally planning on having it all together, but life got in the way and I ended up eating everything separately! But, I'll still rate it all together for simplicity sake. You might notice there's only one photo above and that's on purpose- the other two dishes did NOT look appetizing so I made the decision to leave them out. You're welcome!!
First up- the spring salad. OMG this was so amazing (and looked beautiful)!! This was unlike any salad that I've had before, because it had stuff like sauteed asparagus and boiled potatoes. The dressing was incredible and tasted so bright and fresh. I had a huge batch of this and it tasted better as I ate it for leftovers. Loved this!
Rating : 5/5. SO SO SO good
Next - I made shepherds pie. This was very different than other vegetarian shepherds pies that I've made in the past, mostly because it used mushrooms and chickpeas! It didn't really give me the same taste or texture (for that, I prefer to use textured vegetable protein or other meatless ground meat), but it was a good dish. I like how it has all of your main and sides together in one spot and it tasted pretty good. The only down side was that it took quite a while to make, and the texture was a bit too soupy for my liking (hence no picture).
Rating : 3.5/5. Good taste, but not what I think of for shepherds pie.
Finally - I tried a dessert and made brownies. This was my first time trying out aquafaba (which is just chickpea juice). When mixed up, it takes the texture of egg whites and adds fluffiness to baked goods! I was shocked that this actually worked since I've always been skeptical since its..well, chickpea juice. As delicious as these were, they never really set in the oven and just stayed a doughy texture. I think if I make these again I'll put them in a bigger pan so they're not quite as thick! Dan really liked these though and had no idea what the secret ingredient was!
Rating : 3/5. A lot of work, and not the best brownies ever.
What's the weirdest ingredient you've ever used?
Favorite meal?