Top Five Friday #10 : Happy 100!
Hi everyone and Happy Friday!
Today's Top Five Friday is a bit different- instead of having a theme, I'll just be talking about five things that I'm loving right now. I love seeing bloggers do "what I'm loving lately" posts, so I thought I would share a few of my current obsessions! This is actually my
100th post
, so it seemed fitting to do a special theme! Be sure to leave what you're loving in the comments below. Hope you have a great weekend!

Five Things:
Morning Runs
Morning run in Palma!
It's (un)officially summer in Pittsburgh now (we go from snowing to 80 degree days..why?!) and I've been doing the majority of my runs before work. It's so peaceful to be outside before the sun rises and hardly anyone is out. The weather is cooler and I can start my day knowing that my workout of the day is already done! Best feeling ever. Check out my post about time management for some tips and tricks to working out in the morning!
This powder is amazing! I add it to protein shakes, smoothies, and my juice. It tastes great and is an easy way to add more fruit and vegetables to your diet! My favorite smoothie for post-run is 1/2 cup tart cherry juice, 1/2 cup water (adjust if it's too thick), handful of frozen mango and banana, 1 scoop Amazing Grass, 1 scoop vanilla protein. Blend and enjoy!
Goodies from Fabletics!
When I got back from my trip, I had a package from Fabletics with a few goodies I won in a giveaway! My favorite by far is their briefs. They're SO soft and comfortable, especially for working out, and come in great colors and patterns! I've tried a few different brands of "athletic underwear" and these are by far the best I've tried. I'm ordering more packs ASAP!
Actually a farmer's market in Sweden that I visited, but it counts, ya?
It's finally that time in Pittsburgh! The Market Square Farmer's Market is officially opening next Thursday! If you've never stopped downtown during lunch on Thursdays, it's great. Live music, local food (hello, pierogies), lots of vendors and tons of fun. I love walking around and picking up snacks for work and some flowers!
Starbucks S'Mores Frappuccino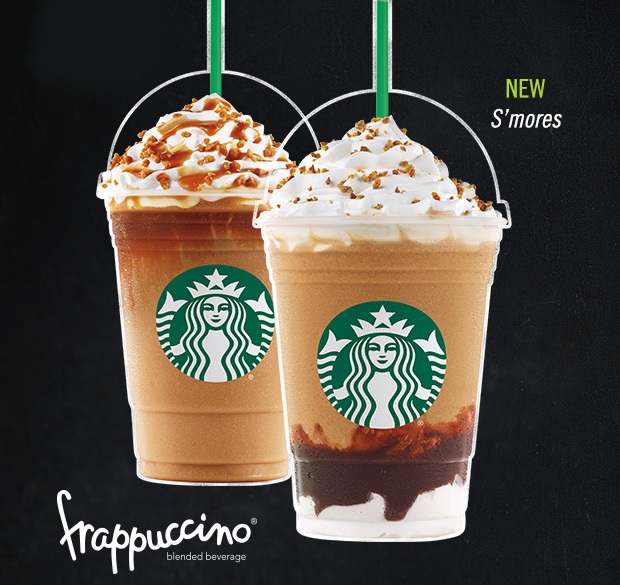 Ohhhh my this is delicious. I'm not usually a fan of frap's (and I hated the birthday cake one) but this is light and fluffy and delicious. I need to try to make it at home, because $5 for a cup of whipped cream, chocolate and graham crackers blended with some ice is kind of ridiculous...
I'm sneaking in a sixth favorite - Canva! Julie mentioned this website on her blog the other day, and I'm loving it so far! I used to do all of my images and banners in Paint, and this makes it SO much easier. You'll be seeing new graphics for my posts (including the one above!) I hope you like them!
Five Songs:
-
Fight Song : Rachel Platten
I heard this song early in the week, and ever since then it's been blowing up across the blogosphere! It seems like everyone is loving this song, which is easy to understand. It's got a great message and has a great hook. This is definitely going in my half marathon race playlist!
-
I Choose You : Sarah Bareilles
I have no idea why I haven't listened to much of Sarah Bareilles before..she's so incredible. While I was visiting my friend Steve in Sweden, he played some of her music and I immediately downloaded all of her songs on Amazon Music. She's SO talented!
-
Opportunity : Sia
I watched the movie Annie on the flight back to the United States and loved Sia's version of this song! I've been listening to the Broadway soundtrack ever since I played in the orchestra for a local show a few months back, so it was fun to actually see the musical!
-
Perfection : Oh Land
This song came on while I was listening to the "Evening Commute" playlist on Amazon Music (check out their pre-made playlists..it's a great way to find new music) and I fell in love with this song! It's really soothing and a bit haunting at the same time. The singer is from Copenhagen, which is just icing on the cake for me!
-
Pure Imagination : Lindsey Stirling and Josh Groban
I just about passed out when this song popped up in my Youtube feed. Lindsey Stirling and Josh Groban are two of my favorite artists, and Pure Imagination is one of my favorite songs. More like Pure Amazing! Love this version of the song (although the Muppets were a bit annoying...hate to say it but it's true!)
Five Shows:
-
Dancing with the Stars
I'm still rooting for Nastia and Riker! Both of them are exciting to watch and really talented. I don't usually like trio dances, but Derek choreographed the BEST dance EVER! Not only is it - by far - my favorite trio dance, but one of my favorite of all time on the show! I do have to admit that Nastia's attitude kind of turned me off her a bit, but that dance pulled me right back in. How does she move so smoothly?!
-
The Voice
India Carney - She sang two of my favorite songs of the moment, and I thought they were great choices for her voice. She's great at the emotional, raw songs, and I loved how she changed up Glory! I also voted for her in the instant save, so I'm happy she stayed!
Joshua Davis - I think he has a great voice, but hasn't blown me away. His song for his wife was beautiful though!
Koryn Hawthorne - I'm still on the fence about Koryn. She's incredibly talented, but I'm just not a fan of her voice! Also, why would anyone on The Voice sing Dream On after Amanda Brown KILLED it?!
Meghan Linsey - No words...just amazing.
Sawyer Fredericks - Another singer that I think is great, but not very exciting. He sounds radio-ready, but all of his songs sound the same to me...
Kimberly Nichole - I was so sad to see her go! I loved her energy and fun song choices each week, and how cute was she in the package with her mom and Christina?! I want to see a trio with those three.
-
American Idol
Well, Rayvon's luck finally ran out and he was eliminated. I wasn't completely surprised, but I'm rooting for Clark and Jax (two of my favorites from early on!) I think Nick is a great singer, but every song he sings sounds the same and his voice reminds me of Daughtry's..but not as good. (eesh that was harsh..)
-
Friends
Thank goodness for Netflix. I've watched episodes of Friends in the past, but I finally got the opportunity to watch it from the beginning. I have to say it's in my top shows of all time now! Most sitcoms seem to get dull and not as funny as the seasons progress (cough cough How I Met Your Mother) and this seems to get better and better! We just got to THE episode:
- The Mindy Project
Has anyone else heard the news that The Mindy Project is being cancelled (but was picked up for Hulu for 2 seasons?) I'm a huge fan of Mindy's so I was shocked by the news! I've watched the show from the beginning and I'm glad it's going to continue, but surprised that Fox would let it go. In other Mindy news, she's releasing another book! Has anyone read the first one? I did and loved it!
Linking up with Mar, Cynthia and Courtney as well as Heather and Clare!!
What are you favorites of the week?
Thoughts on any of these shows? It's getting down to the wire for all my competitions!