Running Whole 30 - Guest Post
Hi everyone! As I mentioned yesterday, I have a really exciting post for today. One of my favorite bloggers out there,
Margaret
from Young and Rungry, and I are teaming up in January for a Whole 30 challenge!
Don't know what Whole 30 is? The
official website
describes it best :
Whole30 is more than a diet. It is a lifestyle change. In the course of 30 days, you will experience many changes and benefits. It will change the way you think about food. It will change the way food tastes to you. You will have more energy. And, most likely, you will lose some unwanted weight.
Sounds pretty great, right? This is going to be really interesting because Margaret and I are both long distance runners (she recently ran the St. Jude's Marathon!), so we're going to be putting an endurance athlete twist on the challenge - hence the name "Running Whole 30" - but everyone is welcome to join!
In the next few weeks, Margaret and I will be sharing more information about the program, some meal plans, recipes, and more fun. Today, I just want to introduce you to my partner in crime! Without any further ado, here's Margaret!
Hey everyone, my name is Margaret and I blog at YoungandRungry. I'm so excited to be here with Gretchen today to announce our Whole30 accountability group called RunningWhole30! Gretchruns is one of my favorites and of the first blogs I've read since starting out and I'm thrilled to team up with her on such a fun and encouraging endeavor. (AWW!! #squadgoals - G)
I did my first Whole30 this time last year, which completely changed my relationship with food for the better. I found "It All Starts with Food" by Melissa and Dallas Hartwig in a time where I needed an answer to the bad decisions I was making when it came to fueling my body for running. I didn't know much about it, but I did know that I desperately needed boundaries seeing as though I was eating cinnamon rolls before some races (oops) and consuming far too many empty calories instead of nutrient dense foods.
This diet has the reputation of being "low carb" so my initial reaction was that it wasn't for me because I'm a runner and us runners must live on bread and pasta. The more I researched, however, the more I realized that Whole30 is only as low carb as you make it and in some cases, runners tend to eat more carbs than they actually need. So I gave it a try and since then, I've PR'ed in every distance from the mile to the marathon so I'm hooked.
The 30 day challenge was a lot easier than I was expecting. There was a certain thrill of cooking each meal and being creative in the kitchen by incorporating healthy foods rather than settling for what was normal or convenient. I was all about a "diet" that let me eat however much I wanted and it was the first time that I ever felt guilt free for feeding myself until I was stuffed to the brim.
The best part was that I was loosing a little bit of weight and feeling deprived of nothing. I also had a lot of "off-scale" victories such as my face clearing up, being more focused at work, and learning how to turn down food that I didn't want or need (something that isn't always easy for a southerner).
I fell in love with veggies and plant-based food even though many people see Whole30 and paleo as all about animal protein and to this day most of my meals are compliant to the guidelines without me even thinking about it. Yes, I've been drinking red wine and fueling some runs with oatmeal, but for the most part I haven't missed those cinnamon rolls at all.
This time around my reasons for doing it are a little different, but the benefits I'm going for will hopefully be the same. I've gotten a little off track especially in this holiday season, but the main reason is so help and inspire others to eat well and feel good about themselves. It'll be fun for us to share recipes, grocery lists, tips, wins, and frustrations.
I hear that the second time around is the harder than the first so I'm going to need help too!


To get to know Margaret a little better, I asked her some questions:
What is your proudest moment of 2015?
We have this race in Memphis called the Cooper Young 4-miler in a really trendy part of mid town that doubles as the biggest race and wildest party of the year. The year before, I ran it right when I first moved to Memphis and got smoked, but this year I pulled first female and won a pair of shoes, which was really exciting!
What did you want to be when you were a kid?
I always wanted to be a day care director, but my mom explained the word "liability" to me one day and I immediately changed my mind! At one point, I also thought I'd be a pro basketball player, but I'm highly uncoordinated so that didn't quite work out.
What is your favorite food and drink?
Favorite drink (besides wine) is coconut or raspberry La Croix and my favorite food is probably sweet potatoes or Brussels sprouts.
What is your favorite emoji?
That girl who's like shrugging with one hand. That's my constant expression and can be interpreted as "I don't know, but sure" or "ammmiright?"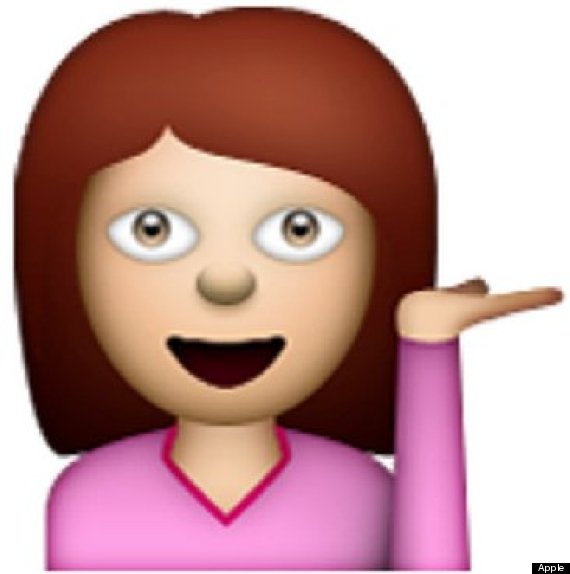 Tell us a fun fact that has nothing to do with running or food
I am the youngest of two in my immediate family, but am also the youngest of 15 cousins so I'm definitely your quintessential "baby of the family."
I hope that all of you are just as excited as Margaret and I are to do this challenge. If you're interested in joining us, we have lots of ways to get involved. Our 30 days are going to start on
January 4th
, but before then you can join our
Facebook group
(where we'll be sharing lots of recipes and support before, during and after the challenge) and use the hashtag #RunningWhole30 on Instagram and Twitter!
I would also recommend that anyone who is interested in the program or just learning more about it to check out the book that Margaret mentioned-
It Starts With Food: Discover the Whole30 and Change Your Life in Unexpected Ways
. (affiliate link FYI). I'm still working on finishing it and will have a book review coming up, but it's a great resource to learn more about food and its connection to everything in our body- from our skin to autoimmune disease and our moods. It's really fascinating!
So- who's in!?
Have you ever done a food challenge?
Do you have any questions about Whole 30?
I would love to do a Q&A post- so please leave any questions or send them to me in an
email
!
linking up with
Tuesdays
on the
Run
and Jill
linking up with Amanda