Tasty Tuesday : November Favorites
Happy Tasty Tuesday everyone! Another month is coming to an end, and I thought it would be fun to look back on November and talk about some of my favorite new products that I tried out. I've been doing a lot of experimenting in the kitchen, so I thought it would fun to share what I love each month! Today I'm going to be talking about some foods, drinks, recipes and products.
Food
Tofutti Sour Cream
This is kind of a weird food item to share, but I had to talk about it! I was always a huge fan of sour cream and used it on so many different dishes. I was really excited when I found a
vegan sour cream alternative
that tastes so close to the original that I'm not sure if they repackaged regular sour cream and just claim it's vegan. It's that good! To top it off, it's not much more expensive than the real stuff (which is not always the case with vegan alternatives!)
Gardein Holiday Roast
I was worried about my first Thanksgiving as a vegan, and figured there wouldn't be many traditional items that I could eat. Luckily, I found out that Whole Foods was selling an entire feast in a box for $40- including stuffing, mashed potatoes, gravy, green beans, cranberries, and a
Gardein Holiday Roast
. I was a bit apprehensive about the roast, since I don't really like fake meat that much. However, this was AMAZING! It had a really similar texture and taste to turkey, and was filled with an incredible tasting stuffing. I'll definitely be getting this again in the future!
Drink
Troegs Mad Elf
Last month I mentioned loving Dream Weaver from Troegs, but this month I'm excited that my favorite beer of all time is finally available! Mad Elf is a seasonal beer that is absolutely incredible- a Belgian Dark Ale with hints of cherry, honey, cocoa and spices. It's even better on tap if you're in the Hershey area! Last year I tried a Mad Elf flight, featuring varieties from different years, and I'm dying to get back to try it again.
Tim Hortons K Cups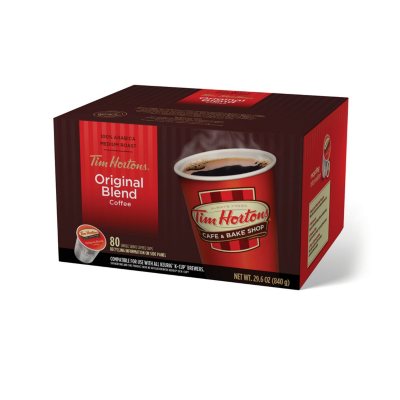 A few months ago, I got a membership to Sam's Club on Groupon. It's been great so far, and I've been stocking up on tons of my favorites. One thing that I wanted to get was a big box of K-cups for work, and luckily Sam's had my favorite brand-
Tim Hortons
! Their coffee is so delicious and I don't even need to add any kind of milk or sugar. I can't start my morning without it!
Recipe
I love finding easy lunches to help make my weekly prep easier, and this month I've been all about burrito bowls! These could not be more simple to make, and you can customize them to your preferences. I make a big batch of rice (usually about 2 cups of dried rice is enough for 10 servings- 5 lunches for me and 5 for Dan), cook a can of beans, roast about 5 potatoes and an onion, and mix together. On the side I'll bring salsa, guacamole and vegan sour cream. Some other combinations I'm loving are portobella mushrooms and Brussels sprouts, like you see above.
It's so delicious, and it takes barely any work at all! Is there any better feeling than having lunch ready for the entire week on Sunday?!
Product
I mentioned this food processor a few weeks ago in
Top Five Friday,
but I have to mention it again! I've used it so much this month, and it's really made food prep and cooking in general much easier. I don't know how I ever cooked without it! If you're tired of chopping up veggies for hours, think about investing in a bigger food processor with chopping attachments!
What are some of your favorites from November?
What recipe should I try next?
What's your favorite seasonal beer?